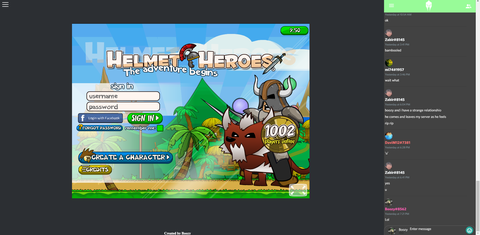 Now PLAY Helmet Heroes AND talk in DISCORD!
http://helmetheroeschat.com
- Instant invite.
Don't have discord account? Can join via guest system.
**Note: Coloring/Backgrounds design are still in the process of being worked on.
HH Chat has been running its community for
three years
. However, I'm starting this on a new discord rather than continuing to use Click To Derp (old) hh chat. Fresh Start.
What we have to offer and will offer in the near future:



+ Actually PLAY the game while talking in Discord, what other discord does that?
+ Join discord straight through the site
+ Automatically logs you in
+ Unlike chatango, switch between channels
+ Guest system. You DON'T even need a Discord account. Yes, they can be ip banned so no worry about spam!
+ Special Ranks this time for members. People who help with giveaways "Contributor", people who manage them "Giveaway Manager" and more ranks with special privileges
+ New and old staff. Some old staff will be joining, but we will also be adding new staff members
+ Moderator (novice) rank. This will be our new training rank, to teach how to properly moderate. You can be promoted to full mod.
* New Marketplace with point feature that soon will allow people to guy stuff from staff from points made in Discord.

**Chatango still supported in separate page. Some people can't access Discord through school firewalls.


Soon:



+ Guild Channels. We will create a hidden channel that only members of that guild can join. Also you will have a tag with that guild name
+ 24/7 (or atleast long periods of time) Music channels to join if desired. (we can decide on type of music later)
+ Creating a bot (with the help of Davi12) to serve our needs. Wiki bot?
+ Access forums from site without exiting anything. Same with Wiki.
* Avatar / Sig Giveaways for random members
* 1M weekly Giveaways
* Change backgrounds


HH-Chat has been around for 3 years. The oldest and most known community based around Helmet Heroes.

Was active as all hell the first two year, even had Misosoup as a moderator for a period of time before he quit the game.

Truly was an amazing & fun experience.




3rd year is when we dropped the ball after deciding Discord would be better. Wrong.

People on Chatango didn't want to move to Discord because no game.
People on Discord didn't want to go back to Chatango because its a garbage chat system to be honest.


...So today i'm showing off the FIRST website that has discord chat built into it.